Winter sports
The ideal base for a week of great winter sports
Chalet Schöne Aussicht is the ideal base for a week of skiing or snowboarding in the ski areas of Bramberg-Neukirchen (Wildkogel Arena) and Kitzbühel-Kirchberg. But did you know that Bramberg has also the longest illuminated toboggan run in the world? This 14 km long toboggan run is open every day during the winter season. In addition, the Pinzgau trail is very well known and renowned among true cross-country fans. This 200 km long trail runs right through the Salzachtal. And with the Panoramabahn in Hollersbach you can quickly go up, for a day of skiing or boarding in the Kitzbüheler Alpen.
Wildkogel Arena
The Wildkogel Arena is the ski resort of Bramberg and Neukirchen. The area has a total of 75 km of slopes, of which 35 km blue, 30 km red and 10 km black. In Bramberg the Smaragdbahn will take you up to 2,100 m in just a few minutes. From the slopes you have a fantastic view of the surrounding '3000-ers', including famous mountains such as the Grossglockner and Grossvenediger, the two highest peaks of Austria. Of course, there are some ski schools in Bramberg, and you can rent all the necessary ski and snowboard equipment near the lift. Finally, there are a few apré-ski bars near the ski lift, where you can enjoy yourself with your family or friends.
The Wildkogel Arena is open this season from 5 December to 8 December 2020 and from 11 December 2020 to 11 April 2021. There are several ski passes for sale. First of all the ski pass for the Wildkogel Arena. The pass for this area also gives access to the Zilltertal Arena with the famous ski resorts Köningsleiten, Gerlos and Zell am Ziller. In addition, there is the Salzburger Super Ski Card. This card not only gives access to the above areas, but also to the ski area Kitzbühel-Kirchberg, the areas of Zell am See and Kaprun and many other places. With this pass you can discover 23 ski areas. Finally, there is the Snowcard Tirol. This mega ski pass gives you access to no less than 91 ski areas and 4000 km of slopes.
There are also a plethora of activities to experience beyond skiing. For example, the mountain stations of Bramberg and Neukirchen have recently been connected to each other by means of a beautiful walking route. You can also enjoy: ski touring, ice skating, snowbiking and paragliding. A trip in a real horse-drawn sleigh is also possible.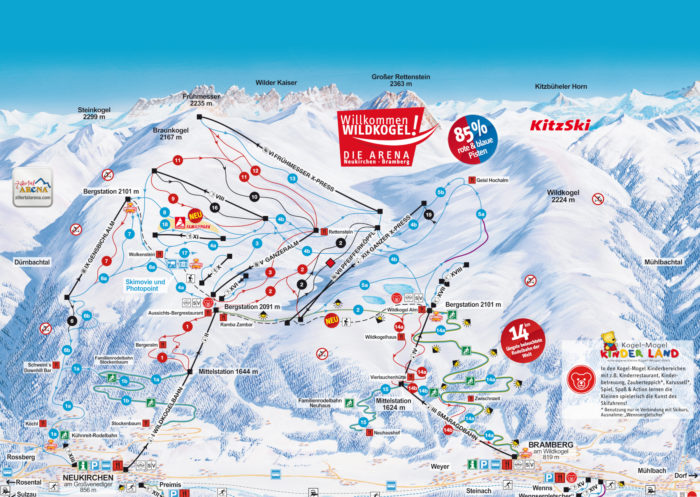 Kitzbühel-Kirchberg
You can find the Panoramabahn within a five-minute drive from the chalet. This lift is part of the ski area Kitzbühel-Kirchberg and is located in the Kitzbüheler Alpen. The area has a total of 170 km of slopes, 72 of which are blue, 74 red and 24 black. Kitzbühel is particularly known for its world-famous annual Hahnenkamm racing. This ski race has been organized since 1931 and takes place annually around January 22nd. This year the competitions will be held from 16 January to 24 January 2021. Besides Kitzbühel and of course Kirchberg, are Pass Thurn, Jochberg, Aurach and Aschau also part of this area. The ski area is open this year from October 24, 2020 to May 2, 2021. Oh yeah … if you can ski well, you can ski back to the chalet with enough snow from this area … Good luck!